Learn Quran from the Comfort of Your Home with Our Expert Tutors

Free

Trial Classes

 for a week

Flexible 

Schedules

Live Supervision

support for parents.

24/7

 availability

Recorded classes

for later playback
Perfect Your Quranic Recitation Skills with Tajweed at
Online Quran Learnings
Easy and Simple Quran Learning Solutions
Our online Quranic Tajweed program is designed to help learners of all age perfect their Quranic recitation with Tajweed. With our expert-led guidance, you can learn the rules of Quranic recitation from anywhere, at any age, and at your own pace.
Our Quranic Tajweed program is taught by qualified and experienced Quranic teachers, who will help you achieve Quranic excellence through mastery of Tajweed techniques. With our interactive learning environment and flexible scheduling options, you can conveniently learn Quranic Tajweed skills from the comfort of your own home.
Whether you're a beginner or an advanced learner, our courses are tailored to meet the needs of learners from diverse backgrounds. Our comprehensive online Quranic Tajweed program covers all aspects of Quranic recitation, including pronunciation, fluency and Tajweed rules.
Who can take Online Quran Lessons?
Discover Quranic Education for All Ages and Backgrounds!
At Online Quran Learnings, our online Quran lessons are designed to be accessible and beneficial to a diverse range of learners. Whether you are a beginner or an advanced learner, our expert-led online Quran lessons are open to everyone, regardless of age, gender, or background.
Our online Quran lessons are taught by qualified and experienced Quranic teachers, who provide personalized attention and guidance to each learner. We offer flexible scheduling options, so you can learn at your own pace and at a time that suits you.
Our online Quran lessons are perfect for those who want to learn the Quran from the comfort of their own home, or for those who may not have access to a local mosque or Islamic center. Our courses cater to learners of all levels, and we offer comprehensive courses that cover Quranic recitation, memorization, and Tajweed rules.
Our both Male and Female Online Quran tutors have taught hundreds of children and know how to manage young kids. With in few days your youngsters can manage the online Quran classes them selves.
Note that Quran for beginners (children of age 4 or less) can be some what challenging. For them it is better that parents also teach them selves. See our blog on some of the distractions to avoid. We also provide free online Quran classes for deserving students.
How to start Learning Quran with Arab and Non – Arab Teachers
Start Your Journey Today with Online Quran Learnings!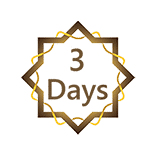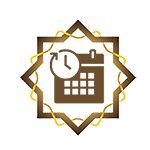 After successful registration,we will contact you to schedule your class at your desired time.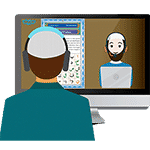 We'll give you instructions about the class and you just have to login at the scheduled time to take class.
How to start learning the Quran online with Online Quran Tutors
2
Student receive the teachers call either audio or video and start its class to learn Quran Online. On receiving the call teacher share its screen with student.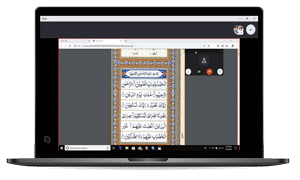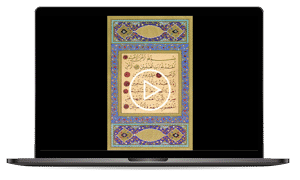 4
Student will receive its recorded class link to download the video after its class ends. Student can use this video whenever he want to repeat the lesson.
Discover the Benefits of Learning Quran Online with Us
Expert Guidance, Flexibility, and Convenience!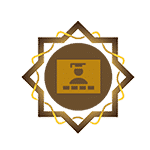 At Online Quran Learnings, we believe that it's essential to experience the quality of our online Quran classes before committing to a full course. That's why we offer a free trial class to all new students. Our trial class is an excellent opportunity to connect with our qualified Quranic teachers, experience our online teaching methods, and evaluate our program's effectiveness.We offer three days free evaluation classes.

Experience the Ultimate Convenience and Flexibility with Our Online One-to-One Quran Classes! Our expert instructors are available to you from anywhere in the world, so you can learn Quran online at your own pace and from the comfort of your own home. With personalized attention, you'll receive one-on-one guidance that caters to your unique learning style and goals. Our state-of-the-art technology and interactive learning platform create an immersive and engaging experience that makes learning Quran easy and enjoyable.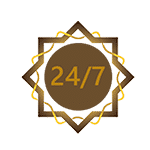 24/7 Flexible Time Schedule
Our Online Quran Academy offer our students extremely flexible time scheduling. Student will schedule its class for Online Quran Class per its convenience. Online Quran Learnings uses such modern technologies like Skype to take Online Quran Classes that is easily available on computer as well as all other mobile devices like Android and iPhone.
At Online Quran Learnings, we understand the importance of female Quranic education and provide female Quran tutors to facilitate it. Our female tutors are highly qualified, experienced, compassionate, and supportive, and they tailor their teaching methods to the unique learning style and pace of each student.Our female Quran tutors specialize in Tajweed, Quranic recitation, and Islamic studies and use modern teaching techniques to make the learning experience enjoyable and engaging.

At Online Quran Learnings, we believe that everyone should have access to Quranic education, regardless of language barriers. That's why we offer Quranic classes in multiple languages, including English, Arabic, Urdu, and more.Our experienced and qualified Quran tutors are proficient in these languages and use modern teaching methods to make the learning experience enjoyable and effective. They provide personalized attention and support to each student, ensuring that they understand the teachings of the Quran and can apply them to their daily lives.
.
At Online Quran Learnings, we understand that practice is key to mastering Quranic recitation. That's why we offer a unique feature of Record and Playback to our students. This feature allows them to record their recitation and listen to it for self-evaluation and improvement.With Record and Playback, our students can practice their recitation skills with confidence, knowing that they can listen to their own recordings and identify areas that need improvement. Our experienced Quran tutors also use this feature to evaluate students' progress and provide personalized feedback and guidance.